Stop the Attack on Unemployed North Carolina Workers and their Families
North Carolina has the 5th highest unemployment rate in the country, with three unemployed job-seekers for every available job. There is no doubt that NC families need help, but instead they find themselves under attack simply because they are out of work.
Governor Pat McCrory and the NC Legislature are proposing unprecedented, extreme and damaging changes to NC's Unemployment Insurance system. The Legislature will soon take up a bill that will put NC at the bottom of the barrel in terms of its unemployment insurance system, leaving unemployed workers in a desperate situation. NOW is the time to call, e-mail, contact Governor McCrory and Legislators and tell them to STOP THE MADNESS that will:
Cut the maximum benefit amount by 1/3 to $350 per week: No state has ever made such a severe cut.
Cut all benefits by changing to a formula no other state uses.
Cut the maximum weeks of benefits from 26 weeks to a sliding scale of 12-20 weeks. Only two other states (Florida and Georgia) do this.
Cut benefits for workers who lose their job because of health reasons or family reasons, something ½ the states allow.
AND, unbelievably, the bill will cut off federally funded extended benefits that over 80,000 workers now receive as of July 1, 2013. These benefits are 100% funded by the federal government and that bring an estimated $25 Million a week into North Carolina to help families try to make ends meet while unemployed. NO STATE HAS EVER DONE THIS.
Click here for more background on the North Carolina General Assembly's extreme and misguided proposal to gut our state's unemployment insurance system.
Action on this bill will happen quickly and so it is critical that you make your voice heard if you disagree. Please take the time to act now, get your members to act, and spread the word:
Take a stand to STOP the attack on unemployed North Carolina workers and their families.
Happy Holidays?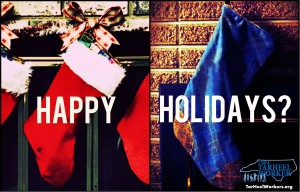 This holiday season, North Carolina lawmakers are considering an unbalanced proposal that seeks to repay our state's unemployment insurance debt to the federal government – a debt incurred by the state as a result of a series of tax breaks in the 90s – by cutting benefits for struggling workers while asking only a paltry 0.06% tax increase from just 30% of private businesses. This plan is short-sighted and will not only harm workers, but will negatively affect the broader economy as the UI system will fail to serve as a stabilizing force in future economic downturns.
Take a moment this week to think of the thousands of laid-off North Carolinians who rely on unemployment benefits to stay in their homes, pay their bills, and buy essentials for their families while they look for work. Then, download and print our HOLIDAY CARD and send your representatives in the General Assembly a message telling them to stand with struggling workers and VOTE NO on this misguided plan.
DOWNLOAD: Tar Heel Workers HOLIDAY CARD
Petition
North Carolina policymakers are nearing a deal on reforming the unemployment insurance system that will likely include cuts to the amount of benefits and duration of weeks that folks out of work

can claim unemployment insurance. The "deal" has been worked out between select legislators and the Chamber of Commerce with no input from workers or worker advocates.
We need our legislators to hear from you. Members of North Carolina's Revenue Laws committee should not vote on any proposal to reform the unemployment insurance system until all stakeholders have been given a chance to thoroughly review and comment on the plans.
PLEASE SIGN OUR PETITION TODAY.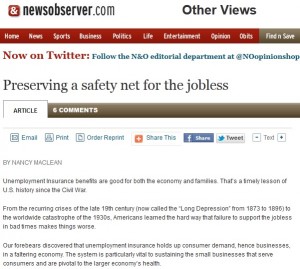 Letters to the Editor
Writing a letter to the editor to your local newspaper is a great way to get our message out that the unemployment insurance system is critical to North Carolina's workers and the economy. To get tips on how to write a successful LTE, talking points, and to report back about an LTE you have written to your local paper about the need to protect unemployment insurance, visit our Letters to the Editor page.

In Action
Last May, we partnered with Working America to collect nearly 400 letters to North Carolina lawmakers urging them to keep our unemployment insurance system strong. Watch the video documenting this effort below.
If you are an organization and are interested in joining our efforts and lending your name to this campaign, please contact Bill Rowe at bill@ncjustice.org